This One Time With Julia
Author:
David Lampson
Genre:
Young Adult
Format:
ARC
Publisher:
Razorbill<
Release Date:
2-2-12
Living on a diet of cheeseburgers and pizza, Joe is stuck in his adolescence without the capacity to grasp anything more than what is in front of him. When his twin brother, Alvin, disappears, Alvin's girlfriend comes to LA to find him. Julia takes Joe under her wing and they go back to her home in Tennessee where Joe learns the truth behind his brother's disappearance and that life might have more to offer him than he thought.
The first thing you have to understand when you read this book is that it is told from the perspective of a developmentally delayed teenager.  Joe's intellectual and emotional maturing process stopped when his parents were killed and he became the understudy of his twin brother, Alvin, who treated him almost like an experiment.  To put it bluntly, Alvin is smart and cunning, while Joe is illiterate and gullible.  There is a Lenny-esque (to make up a word) quality to Joe and he sort of floats through life not really knowing where his money comes from or what the future will hold.  Joe's perspective makes the book a little unsettling because you are never quire sure what is the truth and what is Joe's childlike understanding of the world. Despite my frustration with Joe at times, I found him to be a likable and sympathetic character.
There were aspects of this book that felt like a Wes Anderson movie.  It had unusual characters and quirky dialogue along with family dysfunction and strange story twists.  The easy nature of Joe is juxtaposed against Marcus, the obsessive compulsive and bitter older brother that takes care of Joe.  Although Alvin is not really in the book as a living character, we get to know him through Joe's memories and their seemingly imaginary conversations.  One big disappointment was Julia.  I felt as if there was too much about her that I just didn't know.  She is supposed to be the love interest of both Alvin and Joe, but by the end of the book, I still felt like I didn't know her.  As a result, I just didn't understand why this girl would inspire such passionate feelings from anyone.
Overall, I would say that this book, while different than a lot of YA that I read, was interesting and its unusual approach made it an enjoyable story.  What it lacked in character development, it made up for with an engaging protagonist and a bittersweet ending that left you guessing.
I received this ARC as a part of the Debut Authors Challenge ARC Tours.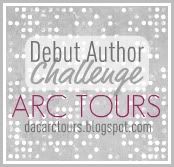 Find David Lampson online:
Website
Related Posts